adbFire is a companion program for the Amazon Fire TV and Android Kodi/XBMC and forks.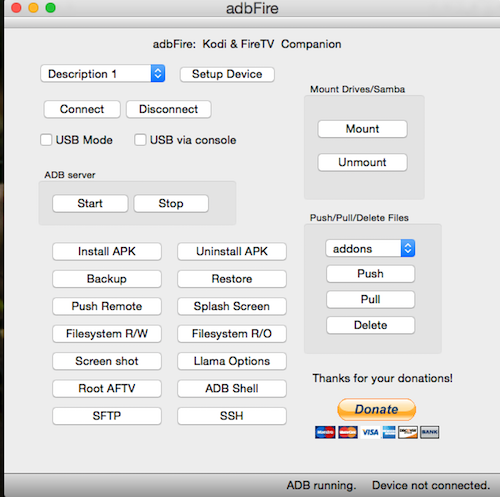 In order to install Kodi on the Amazon Fire TV Box or Stick it has to be 'sideloaded'.
For excellent instructions go to the Tweaking4All website:-
Includes many other useful tips, including how to 'Get a Kodi Shortcut on the Home Screen and/or Boot straight into Kodi (using Llama) - the method I used. See newer post re FireStarter , my preferred method for loading Kodi and other sideloaded apps now.
I am running Kodi 14.2 (updated to 15.2 Sep 2015) on the Amazon Fire TV Box and on a PC running Windows 7.
I have also used adbfire to install the following android apps:- Google Chrome, ES File Explorer, Flashplayer and Firefox. These need a mouse to operate effectively, which I will address in my next post.